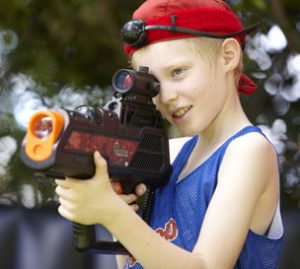 A party is no party without great games, and what better game to play than laser tag? We can easily incorporate any group size, we can play indoors or outdoors, and everyone will have a blast. Our mobile service delivers a great, super fun and super easy laser tag experience throughout the DMV and Florida. We have helped families host the best birthday parties since 2003. We frequently hear from guests about what a fantastic time they've had and that they think our parties are the best ever. We have done parties for the same families multiple times.
Call us or book today; we book 6 weeks or more in advance and offer weekend rentals available on much shorter notice. Our self managed weekend rental program is in place for families that waited too long to book a chaperoned event.
Our chaperoned parties are custom tailored for each event, host, and the guests. We happily accommodate everyone including younger siblings, parents, grandparents and players with special needs. Let us know if there are any areas of concern in your yard or facility and we'll cordon them off and make them out of bounds for you.
Weather is not a big deal, our laser tag can be played during the day or night and in light rain, fog, and snow. Should there be a thunderstorm or other severe weather, we'll gladly reschedule you for another day. We regularly have mothers tell us the kids said the party was even better in the rain.